Podcast: Play in new window | Download
Subscribe: Apple Podcasts | Android | RSS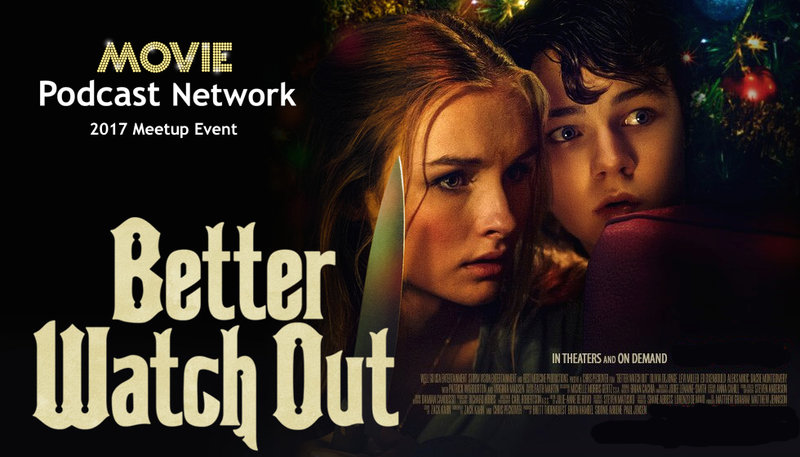 Sci-fi nerds…welcome! For those who did not get to attend this year's Movie Podcast Network MeetUp Event in Salt Lake City, we are producing a few episodes of our coverage from the event.
Christmas came early to the safe neighborhood of Salt Lake City, Utah! It was an incredible event and we wish you all could have joined us. The weekend included multiple meals with hosts and listeners, trivia games, live podcasting, live music, hiking, a birthday party, group screenings of Better Watch Out (2017)—with a Filmmaker Q&A—and Tremors (1990), plus a double feature of Friday the 13th (1980) and Friday the 13th: The Final Chapter (1988) on the actual Friday the 13th of October 2017. Whew! Quite a weekend! You're going to hear great live recordings from all these events in the days to come.
Here, UMC's own Gillman Joel, Dr. Shock and Wolfman Josh podcast with their MPN co-horts from Horror Movie Podcast, Retro Movie Geek, Movie Podcast Weekly and Movie Stream Cast, in front of a live audience after a screening of Better Watch Out (2017). The panel is also joined by the film's writer/director, Chris Peckover for a Q&A with the MPN listeners. If you're jealous of all the fun we had at the 2017 MPN Meetup Event, you'd better watch out for the next one! We'd love to see you there.
This film is currently available to stream on Amazon.
---
SHOW NOTES:
I. Introduction
— Jason and Josh preface this episode with an overview of the MPN 2017 MeetUp Event
---
II. Movie Podcast Network Panel
— Jalien, Dave Bowman, "The Gillman" Joel Robertson, Karl Huddelston, Rach-Hell Ligairi, and SpaceWolf discuss "Better Watch Out" (2017) before welcoming filmmaker Chris Peckover
---
III. Wrap-Up / Plugs / Ending
---
LINKS FOR OTHER 2017 MEETUP EPISODES:
Special thanks to Mattroid from The Sci-Fi Podcast for the use of his music for the Intro and Outro of this episode, performed by TMMC. Thanks also to Universal Monsters Cast producer and composer Kagan Breitenbach for the use of his arrangement of composer Brian Cachia's score from Better Watch Out, from the live MPN Meetup Event, performed by Quartet Macabre.
Want more live podcast recordings from the 2017 MPN Meetup Event? Listen to Horror Movie Podcast BONUS Ep. 132 and Movie Podcast Weekly Ep. 261.
In addition to this podcast, our Movie Podcast Network has several other movie-related shows that are free which we think you'll enjoy:
Geek Cast Live Podcast – where they geek harder than anyone else on geek movies and all things pertaining to geekdom.
Movie Stream Cast – where they help you manage your queues by reviewing films that are streaming online.
The Sci-Fi Podcast – the ultimate movie podcast for science fiction fans.
Retro Movie Geek – where they overdose on nostalgia by reviewing movies that are 20 years old or older.
Horror Movie Podcast – where we're Dead Serious About Horror Movies.
Universal Monsters Cast – where we review Universal monsters films, classic and current.
Movie Podcast Weekly – where we review at least one new movie that's in theaters each week.
We Deal in Lead – A podcast about Westerns, and the rootin'-ist, tootin'-ist movie genre show you've ever heard!
---
Thanks for listening to the Movie Podcast Network.