Podcast: Play in new window | Download
Subscribe: Apple Podcasts | Android | RSS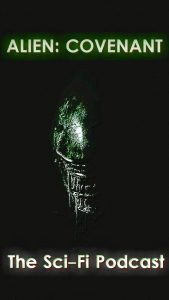 Welcome to The SciFi Podcast, a wretched hive of scum and villainy a bi-weekly podcast focused on in-depth discussion of all things science fiction. The SciFi Podcast features four hosts—Mattroid, Solo, Brain, and Station!—and frequent guests. Each episode we look at a science fiction theme or franchise and take the discussion where no show has gone before.
The long awaited sequel to Prometheus, prequel to Alien, has arrived. Alien: Covenant, Ridley Scott's third dive into the xenomorph pool, has finally arrived, and like it's predecessor people have mixed feelings.
Listen to your friends from The Sci-Fi Podcast dissect and study the Alien: Covenant, compare it to the others in the franchise, and ultimately recommend you watch or avoid it. There's much to discuss, and we want to hear your thoughts, so check the comments section and leave your own.
Theme music courtesy of i hear sirens, featuring Matt on bass and Liz on keyboard. Hear more of i hear sirens ethereal, instrumental, post-rock at BandCamp. Podcast production and artwork by Mattroid. Guest reviews by Jalien (Jay of the Dead from Horror Movie Podcast) and Wild Man Willis Wheeler (Check out his Youtube channel here).

RATINGS AND RECOMMENDATIONS:
Alien: Covenant
Mattroid – 7/10 – See it, buy it if you're a franchise fan
Station! – 6/10 (after the fact)
William Solo Jr. – ?/10 – couldn't decide!
Brain – 7/10 – See it