Podcast: Play in new window | Download
Subscribe: Apple Podcasts | Android | RSS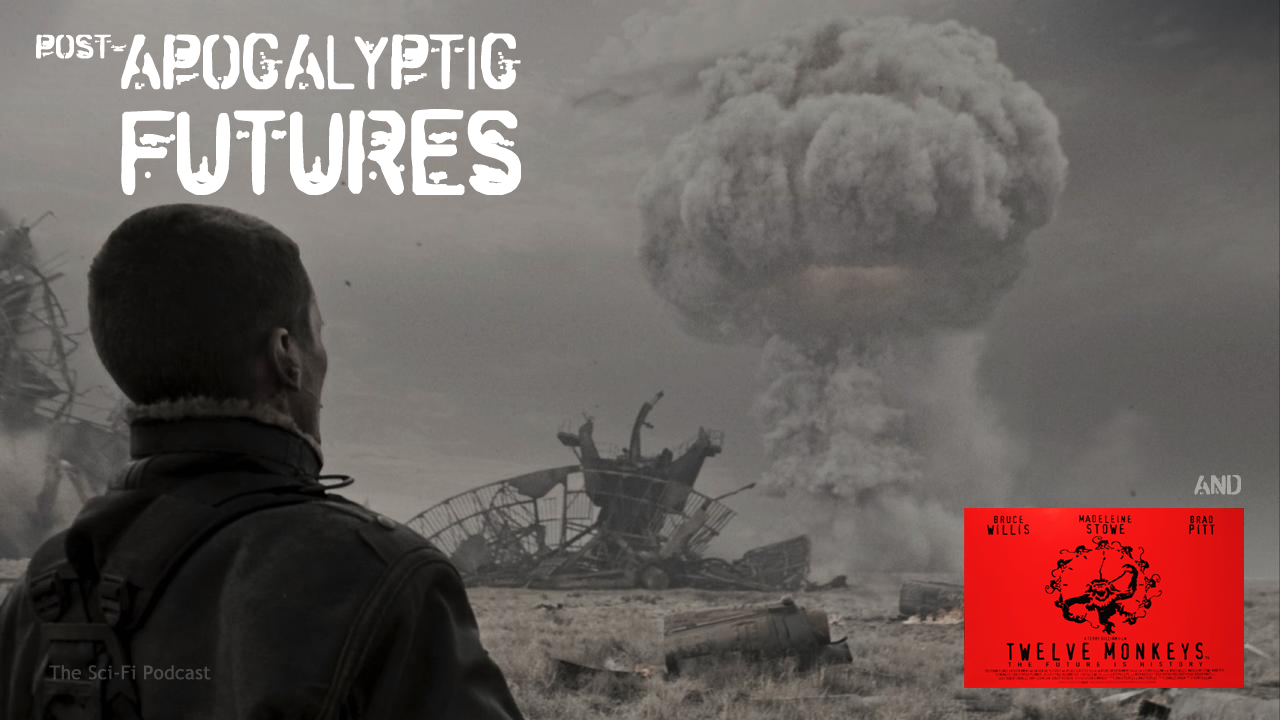 Welcome to The Sci-Fi Podcast, a wretched hive of scum and villainy a bi-weekly podcast focused on in-depth discussion of all things Science Fiction. The Sci-Fi Podcast features three hosts—Mattroid, Solo, and Station!—and frequent guests. Each episode we look at a science fiction theme or franchise and take the discussion where no show has gone before.
On this episode of The Sci-Fi Podcast, Station! leads her chosen theme of "Post-Apocalyptic Futures" and a review of the 1995 modern-classic, 12 Monkeys, from the  dystopian-visionary director of Brazil, Terry Gilliam.
Theme music courtesy of I Hear Sirens, featuring Matt on bass and Liz on keyboard. Hear more of I Hear Sirens ethereal, instrumental, post-rock at BandCamp. Podcast production and artwork by SpaceWolf who can be found podcasting at Movie Stream Cast, Horror Movie Podcast and Movie Podcast Weekly. You can also follow him on Twitter @IcarusArts.
Show notes after the jump.

I. INTRODUCTION
—Station! will lead our podcast theme and feature review
II. [00:02:18] WHILE YOU WERE SLEEPING IN THE CRYO-CHAMBER
—Solo worships at the alter of SpaceWolf
—Station! deals with a teething toddler and reads actual scientific studies
—Mattroid and Station! re-watch Deep Star Six
—Mattroid supports local sports teams
III. [00:07:50] FEATURE REVIEW: 12 MONKEYS (1995)
Mattroid: 9.5 / (Must Own) Buy It
Solo: 10 / Give It Secret Kisses
Station! 8 / Buy It
IV. [00:50:18] THEME DISCUSSION: "POST-APOCALYPTIC SCI-FI"
—Fighting about definitions
—A myriad of movie examples and recommendations
V. [01:40:43] SEGMENTS
—This week: "Save the Wookie"
Solo gives pro-tips to aspiring screenwriters
VI. [01:46:35] WRAP-UP

—Sign-offs, plugs, and recommendations
VII. [01:51:16] BONUS AFTER THE CREDITS
—Candid discussion of Star Wars Episode VII: The Force Awakens Teaser Trailer 2
LINKS FOR THIS EPISODE:
—Matt says to read his writing for The Daily Herald newspaper as "Gary the Unicorn" at heraldextra.com and listen to him on Horror Movie Podcast
—Liz says to subscribe to The Sci-Fi Podcast on iTunes and Stitcher
—William says to listen to him on Movie Stream Cast and Movie Podcast Weekly
—Send emails or pre-recorded voicemails to ask [at] thescifipodcast [dot] com
—If you're on Facebook, please "like" the TSFP Facebook page and connect with other listeners.
Thanks for listening to the Sci-Fi Podcast!