Podcast: Play in new window | Download
Subscribe: Apple Podcasts | Android | RSS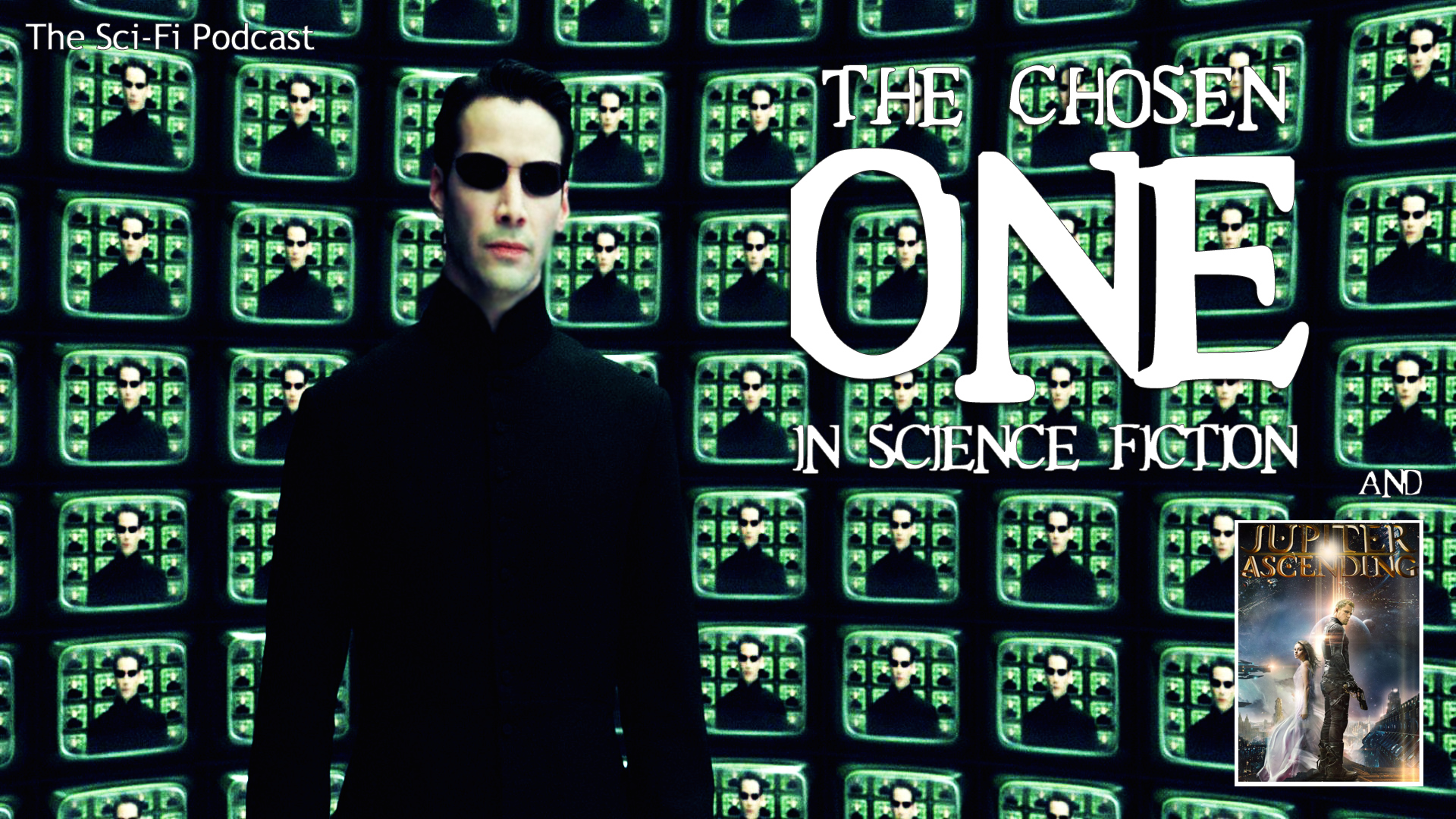 Welcome to The Sci-Fi Podcast, a wretched hive of scum and villainy a bi-weekly podcast focused on in-depth discussion of all things Science Fiction. The Sci-Fi Podcast features three hosts—Mattroid, Solo, and Station!—and frequent guests. Each episode we look at a science fiction theme or franchise and take the discussion where no show has gone before.
On this episode of The Sci-Fi Podcast, we welcome guest Cody Clark for our discussion of the fantasy concept of "The Chosen One" as it relates to and is utilized in the science fiction genre. We'll also give you our review of the recently released 2015 film Jupiter Ascending, another chosen one film from the creators of The Matrix.
Theme music courtesy of I Hear Sirens, featuring Matt on Bass and Liz on keyboard. Hear more of I Hear Sirens ethereal, instrumental, post-rock at BandCamp. Podcast production and artwork by SpaceWolf who can be found podcasting at Movie Stream Cast and Horror Movie Podcast. You can also follow him on Twitter @IcarusArts.
Show notes after the jump.

I. [00:00:00] INTRODUCTION
—Welcome Cody Clark
—Mattroid introduces the podcast theme
II. [00:02:40] WHILE YOU WERE SLEEPING IN THE CRYO-CHAMBER
—William is sick and stoned
—Cody watched Big Hero 6 (2014) with the family
—Cody temporarily fills a token sci-fi stereotype
—Station and Mattroid watched Attack the Block (2011)
—Mattroid revisits The Running Man (1987)
III. [00:08:40] REVIEW: JUPITER ASCENDING (2015)
Station!: 2.5 / Avoid It
Cody: 5 / Stream It
Solo: 4 / Avoid It
Mattroid: 3.5 / Low-Priority Stream
IV. [00:47:08] THEME DISCUSSION: "'THE CHOSEN ONE' IN SCIENCE FICTION"
—Defining the trope
—How it works in sci-fi
—Best and worst examples
V. [01:25:16] SEGMENTS
—This week: "The Excessive Machine"
Everyone gives a multimedia recommendation

—Station! recommends the new short film Power/Rangers
—Cody Clark recommends Guy Kay's newest novel River of Stars
—Solo recommends J.W. Rinzler's book The Making of Star Wars
—Mattroid recommends the 80s TV movie/series V

VI. [01:32:50] WRAP-UP
—Sign-offs, plugs, and recommendations
LINKS FOR THIS EPISODE:
—Cody says to listen to him on Movie Stream Cast
—Cody says to check out his reviews for The Daily Herald (like Cloud Atlas)
—Matt says to read his writing for The Daily Herald newspaper as "Gary the Unicorn" at heraldextra.com
—Matt says to listen to his reviews of horror/sci fi films (like JasonX) on Horror Movie Podcast
—Liz says to subscribe to The Sci-Fi Podcast on iTunes and Stitcher
—Liz says to watch Buffy, Angel, Firefly, and other things she likes
—William says to listen to him on Movie Stream Cast
—Listen to Josh dig deep on horror-temed episodes of Horror Movie Podcast