Podcast: Play in new window | Download
Subscribe: Apple Podcasts | Android | RSS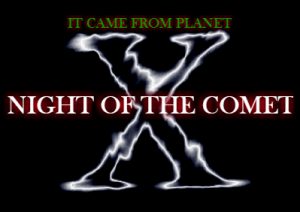 Some movies are so strange, so bizarre, so ultimately excellent that they belong in their own pocket universe of The Sci-Fi Podcast, known as Planet X! Mattroid will be joined in each of these short episodes by a special guest and together they'll discuss a relatively unknown movie and any number of related (and unrelated) tangents.
In this fantastically manic episode of It Came From Planet X, Mattroid and new best friend Joel Robertson (Jor-el) can't keep their ducks in a row, chatter like spider-monkeys, rarely stay on topic (STAY ON TARGET!) and very well may even manage to discuss the 1984 gem, Night of the Comet, a work of brilliant fiction.
Have you seen it?
Do you like it?
Do you own it?
Don't touch that dial, you teenage zombie freaks! Chat about the movie in the comments section.
You can hear more from Joel and his studious cohorts at Retro Movie Geek, and as always make sure to check out our friends and family at Movie Podcast Network.
Podcast production and artwork by Mattroid. Music provided by TMMC.
RATINGS:
Mattroid – 8/10
Joel – 10/10