Podcast: Play in new window | Download
Subscribe: Apple Podcasts | Android | RSS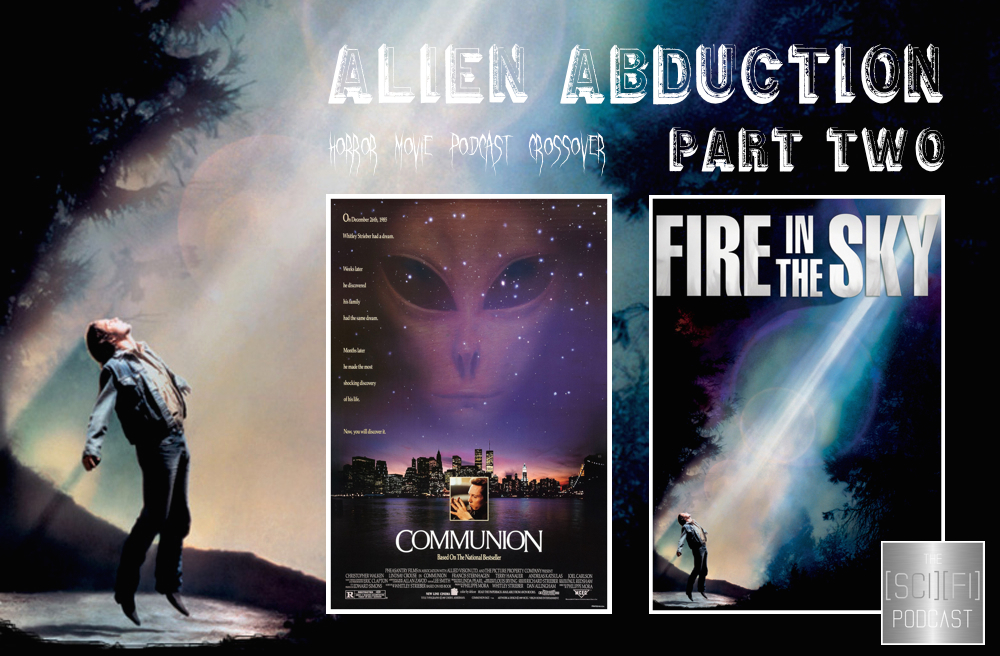 Have you ever wondered about the origins of the Alien Abduction sub-genre in cinema? Episode 116 of HORROR MOVIE PODCAST was Part 1 in a crossover with your loyal hosts here at The Sci-Fi Podcast. On that ep, the HMP hosts and special guest Mattroid, from TSFP, spent some time exploring the theme and reviewed the films Alien Abduction (2014) as well as Altered (2006). We capped off Part 1 with an excellent interview with filmmaker Eduardo Sanchez.
Part 2 of that series is now here! In this episode, HMP co-hosts Dr. Shock (known as Dave Bowman on TSFP) and Wolfman Josh (known as SpaceWolf on TSFP) join the crew of The Sci-Fi Podcast to review the creepy Communion (1989) and Fire in the Sky (1993).
Mattroid, now joined by the other TSFP co-hosts, continue the epic discussion of Alien Abduction, remembering classic movies in the genre, exploring the trope that is Alien Abduction, and utilizing our resident scientist–The Brain–as a sounding board for our hypotheses regarding the probability and plausibility of life OUT THERE and that life coming here. You also will not want to miss Station!'s hilarious review of Communion or the great discussion about Fire in the Sky.
To Probe, or Not To Probe? Let us know in the comments section.
Theme music courtesy of I Hear Sirens, featuring Matt on bass and Liz on keyboard. Hear more of I Hear Sirens ethereal, instrumental, post-rock at BandCamp. Podcast production by Mattroid. Artwork by SpaceWolf.