Podcast: Play in new window | Download
Subscribe: Apple Podcasts | Android | RSS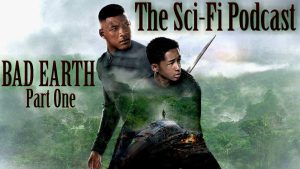 Welcome to The SciFi Podcast, a wretched hive of scum and villainy a bi-weekly podcast focused on in-depth discussion of all things science fiction. The SciFi Podcast features four hosts—Mattroid, Solo, Brain, and Station!—and frequent guests. Each episode we look at a science fiction theme or franchise and take the discussion where no show has gone before.
Every now and then a terrible sci-fi movie comes out and stuns audiences for years; sometimes a sci-fi movie comes out and polarizes audiences, leaving some dumbfounded while others are awe-struck; sometimes these movies become cult-classics and other times they are buried at the bottom of the dollar-bin at your local superstore.
Here we've got movies that reflect on Earth in the distant future; how things may be different, may be the same, or may be kooky as hell with weird things going on for no apparent reason. There's so much to discuss, and we want to hear your thoughts about these movies, so check the comments section and leave your own.
Theme music courtesy of i hear sirens, featuring Matt on bass and Liz on keyboard. Hear more of i hear sirens ethereal, instrumental, post-rock at BandCamp. Podcast production and artwork by Mattroid.
Host ratings and reviews for After Earth

Mattroid – 7
Station! – 6
William Solo Jr. – 7
Brain – 6.5
SHOW NOTES:
— Movie Podcast Weekly Ep. 036: Now You See Me (2013) and After Earth (2013)
https://moviepodcastweekly.com/movie-podcast-weekly-ep-036-now-you-see-me-2013-and-after-earth-2013/
— Movie Podcast Weekly Ep. 244: The Mummy (2017) and It Comes at Night (2017) and The Bottom 5 Worst Movie Titles Ever (Part 2 of 3)
https://moviepodcastweekly.com/movie-podcast-weekly-ep-244-the-mummy-2017-and-it-comes-at-night-2017-and-the-bottom-5-worst-movie-titles-ever-part-2-of-3/#more-5331
— Movie Podcast Weekly Ep. 246: Transformers: The Last Knight (2017) and Oh, Hello on Broadway (2017)
https://moviepodcastweekly.com/movie-podcast-weekly-ep-246-transformers-the-last-knight-2017-and-oh-hello-on-broadway-2017/