Podcast: Play in new window | Download
Subscribe: Apple Podcasts | Android | RSS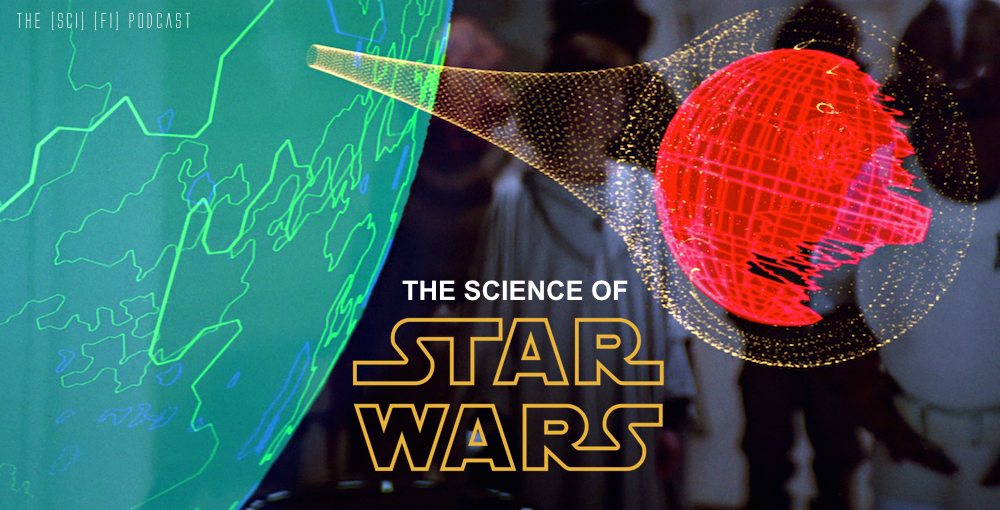 Welcome to The SciFi Podcast, a wretched hive of scum and villainy a bi-weekly podcast focused on in-depth discussion of all things Science Fiction. The SciFi Podcast features three hosts—Mattroid, Solo, and Station!—and frequent guests. Each episode we look at a science fiction theme or franchise and take the discussion where no show has gone before.
This episode we bring back our real life friend and a real life physicist, Brian "The Brain" Patchett, to get his insights on the use of science (and pseudo-science) in the Star Wars saga. Brian teases lightsabers and gives us a full rundown on speeders, blasters, warp drives, deflector shields, The Death Star and more.
We also officially welcome Brain into the fold, updating his status from "special guest" to "contributor" … but contributing what, exactly? Well, besides guesting on great podcasts like this that will melt YOUR brain, OUR Brain writes incredibly-interesting essays for the site about the real science behind filmic fiction. If you haven't read his "Brain Blogs" you are truly doing yourself a disservice. The most applicable to this week's episode is his most recent essay, "Laser vs. Plasma, Sword Battle of Doom!," or as Matt says "All About Lightsabers," but they are all great.
Theme music courtesy of I Hear Sirens, featuring Matt on bass and Liz on keyboard. Hear more of I Hear Sirens ethereal, instrumental, post-rock at BandCamp. Podcast production and artwork SpaceWolf.
Continue reading →